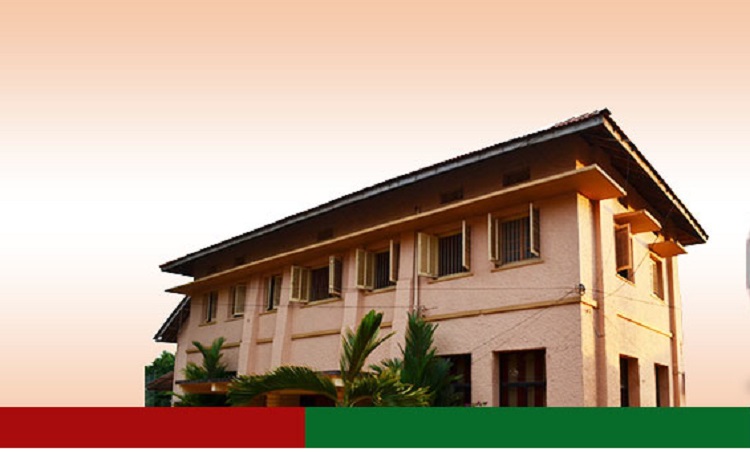 Newstead Girls' College Negombo is Situated in quiet and peaceful surroundings, ideal for a place of learning and ever comforted by the gentle and cool breeze that blows over the Indian Ocean from its Western Boundary. During the past 187 years, Newstead Girls' College has risen to great heights and stature. The period of 147 years From 1815-1962 is a long time in the history of Newstead; a Period When the school was run by the Wesleyan Methodist Missionary Society. The school from its humble beginning as a vernacular boys' school was transformed into a Wesleyan Girls' English High School at the turn of the century, and became a leading senior secondary school bearing the name Newstead after the name of one of the founders of the school, Rev. Robert Newstead. Much was accomplished during this era mainly because of the dedicated services of the Missionaries, Missionary Principals and devoted staff.
Traditions were established, foundations were laid and educational work expanded. The time for the change, however, arrived and Newstead, along with many other schools that had been run by the Methodist church, was vested in the government in 1962. This was a period when many long standing and reputed schools lost even their very identity in the turmoil of reaction and change. But Newstead with the able guidance managed to sail through and establish her place proudly in the main stream of education in Sri Lanka as a National school, the first of its kind in the Gampaha District.
Newstead ever sounds the clarion call in her assertion of the unity of humanity. Newstead is one community comprising Sinhala, Muslim, Tamil and Burgher children from Methodist, Catholic, Buddhist & Islam religious backgrounds living together in the abiding reality that they constitute one human family. The pioneers of Newstead placed their total trust in God's security with the fundamental conviction that their lives were throwaway lives in the service of the master. The summon of Newstead is crystal clear placing your lives unreservedly in the hands of God, and trusting His security, launch out into the deep and traverse More Beyond.
The present standing of the school with around 3200 pupils on the roll, while the spectrum of co-curricular activities, started years ago, still continues. Many new activities have been introduced and facilities have greatly expanded and students excel in both curricular and extra-curricular activities. Although the school aims at high achievement in its varied fields of activity, it still tries to pass on from generation to generation the values of its founders simplicity and dedication in all they undertake. Newstead has always been a very productive, fruitful and fertile ground in moulding women of great stature.
School Anthem
Our's the call of yon horizon , Adventure
And the unchartered land;
Dreams of youth in glad fruition
And happy service now begun.
From remembered past, and unknown,
From clear present, our heritage
We gaze out to far horizon,
Mid the throng and press ofthe age
Chorus: Nature sets before us vision
Of a boat upon the ocean;
Speeding to the far horizon
More Beyond! More Beyond!
Tis the urge that ushers progress,
Links us with future and with past
Cleansing failure crowns our success,
Reaching to full stature at last .
Here we train for life's voyaging,
Other's service gratefully own,
With their efforts we are joining
Gathering in the rich harvest home.

When these sunny days are over,
We'll dwell on in the after glow
Memory will cherish ever
The school we love and we'll watch her grow
From the classroom ball and play ground Comes
a buzz, a hush, a cheering
While wistfully, onward we're bound
Back to gladsome girlhood peering,
Proud that we belong to Newstead
We will be loyal to our school;
Truth and beauty we have garnered,
A faith to live by,love, not rule;
We of many creeds and races,
0ne in spirit,purpose we stand:
As we take our several places
On a newer palm – ftinged strand.
School Anthem Sinhala
සයුර උකුළ පැදෙනා - දසුන් මඩල සොයනා
සොබා දහම මවනා - පැදෙන ඔරුවෙ මහිමා
එපිට එපිට සොයලා - බොහෝම එපිට සොයලා

තුරුණු වියෙහි රස සිහින පමොදවේ
නුදුටු දනව් සොයනා
ගෙවුනු දවස අද දවස උරුමසේ
මිහිරි හෙටට පියලා
දුකෙහි වැටෙමු යළි සැපෙහි නැගෙනමු ඒ
දසුන් මඩල සොයලා
නවමු සිහින මවලා
පදිමු සිහින මවලා

දියුණු මගෙහි අප දිවෙනු යුතුම වේ
ඉහළ පැතුම එය වේ
වැටෙමු වැටුම ජය මගෙක නැගුම වේ
ඔටුනු පලන් ජය වේ
ඉදිරි ගමනැ දිවි පුහුනු කරන සේ
මවුන් තුරුලැ කිරි බී
ගෙදර හැරෙමු සුවසේ
කරල් බරින් රිසිසේ
සසිරි මෙලක දින නුවුන පසු එසේ
හේලි හෙළිය ඇසුරේ
අපට සතර දුන් පහන දිදුළු දේ
මහිම බලමු නුදුරේ
මිහි ළදැරිවිය නිතින් මතක් වී
සතුටු කඳුළු වැගිරේ
කුමරි වියෙහි අරුමේ
ළදැරි බවෙහි මහිමේ
උදම් අනමු අපි "නිව්ස්තෙදය" පේ
ළැබැදි මවුන් වඳිමෝ
ඇත්ත යුක්ත රස ලකර බරණසේ
නිබඳ පැළඳ ගනිමෝ

නොයෙක් සමය සහ දැයත් එකතු වී
එකම හදින් දිවෙනමෝ
"නිව්ස්තෙදය" සැරදේ
අපේ මවුන් සැරදේ

School Hymn
We build our school on thee, a Lord,
To thee we bring our common need;
The loving heart) the helpful word,
The tender thought, the kindly deed:
With these we pray
Thy spirit may
Enrich and bless our school alway.
We work together in Thy sight,
We live together in Thy Love;
Guide Thou our faltering steps aright,
And lift our thoughts to heaven above:
Dear Lord,
we pray,
Thy spirit may Be present in our school alway.
Hold Thou each hand, to keep it just;
Touch Thou our lips, and make them pure,
If Thou art with us, Lord, we must
Be faithful friends and comrades sure:
Dear Lord, we pray,
Thy spirit may
Be present in our school alway.

We change; but Thou art still the same;
The same good Master,teacher,Friend
We change; but Lord,We bear Thy name,
To journey with it to the end;
And so we pray,
Thy spirit may
Be present in our school alway.
Amen